I thought it would be fun to start a new thing on the blog… a reader spotlight! It gives us a chance to get to know each other better and bond over our shared love of all things reading and romance books.
I'm super excited to introduce you to my first guest reader…Amanda Hash!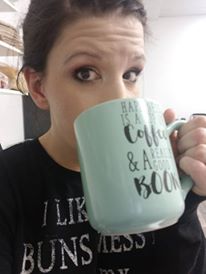 Amanda owns a small coffee shop and drinks most of her profits– when she's not lost in a book, drinking wine. She has 4 incredibly spoiled fur babies, and one equally spoiled husband. She speaks primarily in sarcasm and, despite the alarming amount of caffeine she consumes, can't wrap her head around the fact that some people actually LIKE mornings.
On with the interview…
How long have you been reading romance? I read my first romance when I was around 11 or 12 — I stumbled across a box of old Harlequins that my mom forbid me to read, so naturally I read them all.  As I got older, I read less and less romance, and have only recently rekindled my love for the genre! 
Do you remember your gateway romance book? The one that drew you in and got you addicted to the genre?My gateway books were all bodice-rippers, and it wasn't until I stumbled across one of Debbie Macomber's Christmas books that I realized how much I missed romance (especially the sweet, Hallmark variety)
What's your absolute must-read trope? Second chance romance, hands down.  Throw in a small town and I can't resist.
If you could spend a day in any romance novel, which one would it be?I'd plant myself in Holiday, Texas in All-American Cowboy and get to know the Walker brothers 😉  Dylann: I'd love to join you there! We'd have a blast!
Have you ever traveled to meet an author? If so, where did you go and who did you meet? No, but I did have an amazing author come see me! The crazy talented Carla Vergot (she's releasing her second book soon, a cozy mystery/romance/comedy that's sure to be as awesome as her first one) stopped by my coffee shop when she was traveling back from visiting family.  It was so cool!!!
Describe your favorite kind of romance hero. Well obviously, I love a cowboy.  Aside from that, I like my romantic heroes to have a sense of humor (witty dialogue is my weakness), be kind to animals, and have that rough-around-the-edges-with-a-heart-of-gold vibe. 
Where's your favorite place to read? Wherever I can! That usually winds up being in my comfy corner of the couch, wine glass in hand.
What's one thing you want romance authors to know? How much joy I get from reading their books! I'm a romantic at heart, but not always in practice, and I truly feel like  I am a kinder, sweeter person when I get lost in love stories. 
If you could meet any romance author, who would it be? You, of course!  Dylann: Aw! Let's spend a weekend bonding over wine, coffee and books!
What would your ideal romance novel be about? A sassy small-town coffee shop owner who falls in love with an adorable smartass (can I say that on your blog?)  Dylann: I think you just did! LOL! Then I could see my own life in print, and the world could tell me if my husband is as funny as he thinks he is .
If you could see any romance novel make it to the big screen, which one would it be? Who would play the leads? I'll take a book over a movie any day, so I don't have a good answer for this one!
Do you prefer reading paperback or e-books? Paperback, hands down.  There's just something so satisfying about curling up with a physical book, and turning that last page with a sigh. Dylann: I agree! And that new book smell…MMM!
How many books do you typically read a year? About 100, though I've already surpassed that this year! (*pats self on back*)
Do you belong to a book club? Not currently, though occasionally I can bribe my customers into the idea. 
What's your most prized book-related possession?
I have a bookcase with nothing but signed books (I have incredible book luck when it comes to winning them, and buy plenty more!) but I think my most prized possession is my tattered copy of poetry by Anne Sexton.  I've read it so many times it is literally falling apart, but I feel all the feels every time I pick it up. 
What are your other passions besides reading? I love scouting out local wineries and am fortunate to live in an area where there are a LOT of them nearby.  I write poetry, love the theatre, and pretend I'm Martha Stewart in the kitchen.  When I'm not being lazy, I also like yoga and weight training, though the laziness is strong with me these days. 
Thanks so much to Amanda for being willing to share with us! If you'd like to be a guest on a future Reader Spotlight, just let me know!