I LOVE finding out what other romance lovers are reading and watching. How about you? Here are a few of my faves that I've been diving into recently!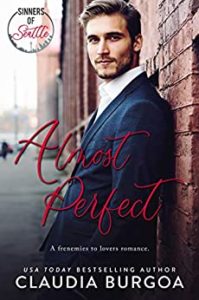 Almost Perfect by Claudia Burgoa
USA TODAY bestselling author Claudia Burgoa brings readers a delightful new romantic comedy that's equal parts hilarious and sexy about friendship and learning how to fall in love!

Olympic medalist and X-game sensation Alex Spearman thinks he's perfect. He's not. I know his kind. Rich, famous, and emotionally unavailable. Well…He's perfect enough to hook up with on the weekend of his sister's wedding. His sister is my best friend. This is a disaster in the making. Did I mention he's also hot, sexy and funny? How can I resist?

After a steamy weekend, I agree. We have chemistry. But it just won't work out in the long run. He's just a fond memory. That is…until he moves next door. When I'm in need, the almost perfect man offers to help. On a "friends-only" basis. "Just friends," he said. Yeah, right. Suddenly, Alex is getting too close for comfort. Things are becoming heated … becoming too real for me. Is this the real deal or am I another medal to him?
What I love about Almost Perfect:
Frenemies-to-Lovers with his sister's best friend.
The perfect blend of heat, heart and humor. Few authors pull this off well and Claudia is one of my faves!
The letters – you'll have to read it to find out what I mean!
Grab a signed copy in the Romance Happy Hour Lucky Shot Book Box here or order from your favorite bookseller here!
---
Sneaking Around with #34 by Piper Rayne
I have a reputation for being tight-lipped. You learn quick when you become a professional hockey player to be guarded with the media, so I've worked hard to cover up the mistakes of my youth.
But when I'm traded to the Florida Fury, where my ex–best friend is the starting right wing, I'm forced to confront my past. Ford and I have a lot of history, especially when it comes to his little sister, Imogen.
My heart still lurches in my chest when I see her.
My hands want to reach out and touch her.
My mouth wants to keep apologizing.
She's the only woman who ever made me want more. But she's also the one who fell victim to my most regrettable decision.
I'm not a believer in fate, but I must be back in her world for a reason. I've fought for everything I've gotten and I'm not backing down from what I know will be the best thing in my life.
What I love about Sneaking Around with #34:
Second Chance Trope with the twist of ex-best friend's sister – so yummy!
The chemistry! These two are combustible.
This one's got all the feels… the heartbreak, the hope, the redemption… it's a rollercoaster ride of emotion and I'm totally there for it!
Grab a signed copy in the Romance Happy Hour Lucky Shot Book Box here or order from your favorite bookseller here!
---
Hitman's Wife's Bodyguard
The world's most lethal odd couple – bodyguard Michael Bryce (Ryan Reynolds) and hitman Darius Kincaid (Samuel L. Jackson) – are back on another life-threatening mission. Still unlicensed and under scrutiny, Bryce is forced into action by Darius's even more volatile wife, the infamous international con artist Sonia Kincaid (Salma Hayek). As Bryce is driven over the edge by his two most dangerous protectees, the trio get in over their heads in a global plot and soon find that they are all that stand between Europe and a vengeful and powerful madman (Antonio Banderas). Joining in the fun and deadly mayhem is Morgan Freeman as…well, you'll have to see.
Catch a sneak peek of the trailer below…
What I love about Hitman's Wife's Bodyguard:
Ryan Reynolds, Ryan Reynolds, Ryan Reynolds – LOL – Seriously though, his style of humor shines in this over the top flick.
The escape – If you're turned off by tons of violence, stay away, though it's so exaggerated it didn't bother me as much as something that might feel more realistic.
It's awesome to see a woman cast as such a badass, even if she is a little off her rocker. Salma Hayek is the perfect blend of funny and sexy.
---
Have you read Almost Perfect or Sneaking Around with #34? I'd love to have you join me for Romance Happy Hour Book Club on April 21st at 8pm Central in the Romance Happy Hour Book Club group on Facebook. I'll be chatting with authors Claudia Burgoa and Piper Rayne! If you see this after, you can always watch the replay on the Romance Happy Hour YouTube channel, in the romance Happy Hour Book Club group, or listen to the conversation on the Romance Happy Hour podcast!
What are YOU reading, watching or listening to right now?
I may earn commissions for purchases made through some of the links in this post.